Here's the game, folks...you can bring back one player from the Panthers past to add to the current roster for this exciting upcoming season.
What Side of the Game?
No surprises here, I went right to the blueline. It was actually kind of tough deciding on a former Cats defenseman. A few guys came to mind almost immediately, but I had to do a little research to make sure I didn't miss any of Florida's key blueliners over the years.
It was fun to look back and see just how many talented guys the Panthes have had on the blueline over the years. I wanted to try and keep the list short and concise. It's a little bias, too, as it has guys I like in particular for one reason or another - I left a couple more guys off out of fear of your guys ridicule, HA!
Below is the list:
Ed Jovanovski
Brian Campbell
Jay Bouwmeester
Robert Svehla
Paul Laus
Erik Gudbranson (don't scoff, haha)
I knew what I was looking for in style of play and it allowed me to narrow the list a bit more. Campbell, Bouwmeester and Svehla were all impressive talents in terms of skating and offense. There's a number of guys on the current roster that are of this mold - some close to the former talent, others not so much.
Jovanovski, Laus and Gudbranson seemed to bring a game closer to what I lean towards and what this team needs on the backend - physicality, toughness and simplicity (at the right times).
However, there could be only one...
Who Gets the Nod?
It really came down to Jovi and Laus. I was a fan of them both, but at the end of the day, Laus won out for me.
Not only did he rock #3 (my favorite), but he was a solid defender who brought it every night for nine years, until and injury ended his career.
A rugged blueliner that showed no fear of the opposition's toughest players. Through his style of play and enforcer mindset, he gained his teammates respect and an easy fan favorite.
In nine years with the Panthers, five of which he came close to playing every game, he averaged around 11 points a season. His true contribution was that he was a solid, dependable defender who showed up every night and lowered the boom physically. He was consistent through the Panthers successful years as well as their rough ones.
This type of gritty, defensive-minded, tough character that plays a simple, hard/heavy game on the blue line would be just what the doctor ordered for the 2019-20 campaign.
What former player would you guys like to to see back in a Panthers sweater?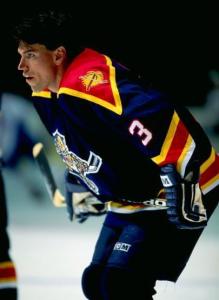 [Image from The Hockey Writers]
In Other News
The Cats have agreed to terms with Denis Malgin on a one-year, one-way contract. The forward has appeared in148 games with Florida and has notched 48 points (24 goals, 24 assists).
Hot Off the Presses
The Panthers announced today the 25-man rookie camp roster. From their site:
"Florida will have 15 forwards, eight defensemen and two goaltenders attending rookie camp. Each on-ice session of the Panthers rookie camp is set to begin at 9:30 A.M. on Tuesday, Sept. 10 and Wednesday, Sept. 11 at the Panthers IceDen in Coral Springs, Fla. All on-ice sessions are free and open to the public.

The rookie camp roster is highlighted by Panthers 2016 first round pick Henrik Borgstrom , 2017 first round pick Owen Tippett, 2017 second round pick Aleksi Heponiemi and 2018 second round pick Serron Noel as well as six prospects from Florida's 2019 Draft class."
Head over
here
for more detailed information pertaining to the full list of players expected at camp.
Go Panthers!