Previously postponed from December due to COVID decimating rosters as the tourney was already underway, the World Junior Championship will take place starting next week from August 9-20 at Rogers Place in Edmonton.
Most team rosters are set at this point. The Blackhawks had 12 of their own prospects invited to camps -- six each to Team USA camp and Team Canada camp. No other country's national team invited Hawks prospects to their camp.
Below is a status summary of the invitees plus implications of expected WJC roles for those selected prospects on their development trajectories and potential ceilings for the Hawks once they each go pro and strive for the NHL.
--
Team USA
In the running:
* Wyatt Kaiser, D
* Dominic James, F
* Frank Nazar, F
* Landon Slaggert, F
Injured and ineligible:
* Aidan Thompson, F
Cut:
* Connor Kelley, D
What's impressive is that Frank Nazar, Landon Slaggert, and Dominic James -- also Aidan Thompson had he not gotten hurt -- have beat out Tyler Boucher, Cutter Gauthier, Isaac Howard, Rutger McGroarty, and Jimmy Snuggerud for spots.
Wyatt Kaiser
As deployed in December when he was on that WJC team for the U.S., Wyatt Kaiser is likely going to be tabbed with the same duties to shut down the opponent and get the puck out and up with his strong first pass and exceptional skating.
This role on Team USA may be a precursor of what role Kaiser could have in the pros as the defensive conscience on the 1st pair who can also carry the mail. Even if the 1st pair is out of reach, he could be the 2nd pair anchor instead.
Nazar, Slaggert & James
Nazar seems like a shoo-in to make the U.S. roster but the question may be what line he gets assigned to. His skill set screams scoring line as his defensive game still needs much refinement though he's not a liability either.
What about the 3rd line for Nazar? If Slaggert makes the team a third time and James does a second time, this trio could be Team USA's 3rd line that keeps the opposition at bay while providing an aggressive forecheck and secondary scoring.
During the scrimmage that capped off Blackhawks prospect development camp last month, Nazar, Slaggert, and James formed the best line for either squad. Their collective foot speed and processing speed to execute were top notch.
Obviously, Nazar has the greatest pro ceiling as he has been compared to Lightning elite center Brayden Point as far as total package and offensive upside. Starting in the middle 6 then graduating to the top 6 may be in the cards.
Slaggert and James have endless motors and are relentlessly competitive especially down low. James may be faster but Slaggert has giddyup and agility to patrol the ice. Slaggert's pro ceiling is likely 3rd line with the 4th for James.
Aidan Thompson
According to Team USA head coach Nate Leaman, Thompson was the "biggest surprise by far" in camp. Alas, Thompson's noteworthy bid for a roster spot ended prematurely after a knee-on-knee hit from fellow hopeful Boucher during practice.
It remains to be seen what the extent of the injury is as Thompson now prepares for his freshman year at the University of Denver. Chances are he plays in the top 6 collegiately for at least two seasons before vying for an ELC.
Despite this setback and being an overager (he's already 20), Thompson could be a draft day steal and dark horse for 2nd line duty in the pros with his offensive talent, hockey IQ, skating ability, 200-foot game, and compete level.
Connor Kelley
Connor Kelley not making the cut isn't surprising as the D pool for Team USA is always deep and the blueline corps tends to be comprised of youngsters who play top 4 -- if not the 1st pair -- on their respective junior and NCAA teams.
As Kelley demonstrated in the scrimmage during Blackhawks prospect development camp, the 2021 7th rounder made simple smart plays at both ends of the ice. He's far from being a dynamic player but seems fundamentally sound.
In the event he was picked to represent the U.S., Kelley would likely have been a reserve player. In a similar vein, his ceiling in the pros could be as a 3rd pair defense-only asset, though, realistically he's a #7 or NHL/AHL tweener.
--
Team Canada
Cut:
* Nolan Allan, D
* Ethan Del Mastro, D
* Kevin Korchinski, D
* Colton Dach, F
* Ryan Greene, F
* Paul Ludwinski, F
None of the Hawks prospects invited by Team Canada made the final roster. Of these six, at least Nolan Allan and Colton Dach and possibly Kevin Korchinski had the greatest chance of making the cut but a numbers game may have been a factor.
Nolan Allan
Similar to Kaiser for Team USA, Allan would have been a prime choice to be a shutdown defender for Team Canada. That role may be going instead to Carson Lambos and Ryan O'Rourke or maybe even Donovan Sebrango.
Allan is destined to be a prototypical defensive defenseman in the pros who is tasked with not only shutting down the other team's best players but making life miserable for them through his grit, sandpaper, and muscle.
Kevin Korchinski
Korchinski may be a stronger candidate to make the team for the next WJC as an offensive catalyst. Lukas Cormier, Ronan Seeley, and Olen Zellweger had a leg up due to their experience. Good and bad is the fact that Korchinski has a late birthday.
Assuming he can enhance his defensive skills by leveraging his skating, size, reach, and hockey sense while maximizing his offensive gifts, Korchinski has the tools to become the #1 defenseman envisioned by general manager Kyle Davidson.
Colton Dach
As for Dach, Team Canada boasts several power forwards -- such as Will Cuylle, William Dufour, Tyson Foerster, Ridly Greig, Zack Ostapchuk, and Brennan Othmann -- who combine scoring ability with physicality and abrasiveness.
In contrast to former Blackhawk and older brother Kirby, Colton is poised to be a power forward in the pros as a board battler, crease crasher, and volume shooter. Colton's ceiling may not be as high as Kirby's. Or perhaps it could.
Del Mastro, Greene & Ludwinski
And just like Kelley with the U.S., Ethan Del Mastro, Ryan Greene, and Paul Ludwinski simply had too many talented peers ahead of them on Canada's depth chart. Had they made the cut, they likely would have been bench players.
--
Jalen Luypen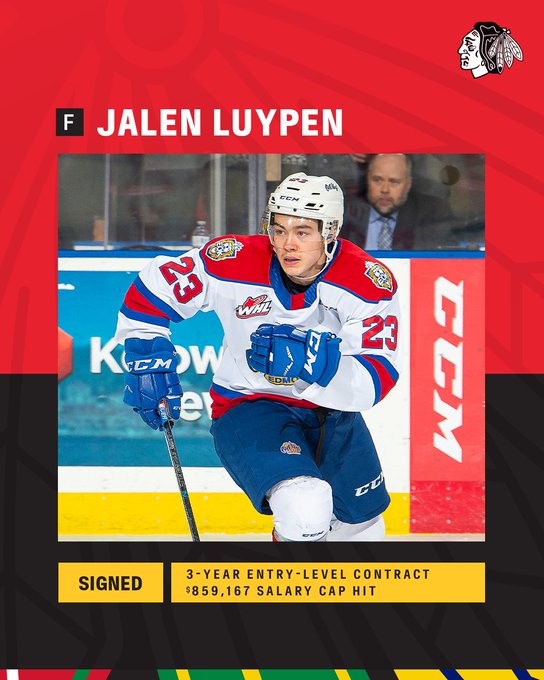 Jalen Luypen is the third 7th round pick who the Blackhawks have signed to an ELC over the past four drafts. Josiah Slavin and Louis Crevier are the two others. Cole Moberg was the 2020 7th rounder but was not retained after an ATO in 2021.
Although drafted by previous general manager Stan Bowman, Luypen matches the profile that Davidson set forth for the 2022 draft. Luypen would fit like a glove in this year's draft class with his offensive flair, speed, work ethic, and compete level.
It should also be noted that Connor Kelley was taken in the 7th round in 2021 along with Luypen. A WJC cut and a transfer from the University of Minnesota-Duluth to Providence College don't necessarily harm Kelley's chances for an NHL contract.
--
See you on the boards!
Sources:
Chicago Sun-Times, Chicago Tribune, Daily Herald, NBC Sports Chicago, The Athletic Chicago; Dobber Prospects, Elite Prospects, Recruit Scouting, Smaht Scouting, Sports Forecaster, The Hockey Writers