Tough scene in the Cats' 4-1 victory over the Dallas Stars when Aaron Ekblad got tangled up with a Stars forward and went down awkwardly and was then stretchered off the ice.
I watched the play once - and even then I looked away. Yikes. I get squeamish with that kind of stuff.
It's been a rough few days here for Florida with Barky and Hornqvist taking some bumps and now Ekblad getting the worst of the three with a serious leg injury.
I wrote about these guys having to overcome some adversity over the weekend when #16 and #70 were out, but now the hill gets even steeper to climb. Ekblad was having arguably the best season of his career - certainly the best I've seen him playing. His confidence was at an all-time high and he was great on both sides of the puck and certainly making his way into the Norris conversation.
With 11 goals, 11 assists and an impressive 878 minutes of ice time logged thus far, him and Weegar were a nasty duo and I would say could be considered a top pairing in the league.
I never know what to think when seeing an injury like that. I have no gauge for the extent of the damage, etc. I'm thinking the news of a surgery to "repair a fracture in his lower extremities," and a 12 week timeline is pretty encouraging for this situation? I say that because hopefully there wasn't significant ligament/muscle damage and they were able to repair a break/fracture and it will heal up quickly and strongly.
I was impressed by the hockey community's show of support and I thought Bill Zito summed things up nicely:
What's Next?
Speaking of Zito, one has to wonder what the game plan is now heading into the trade deadline....
I assumed the Cats were going to be active as the TDL approached, maybe add to the blueline and something up front, but now I have to believe those plans have ramped up to the max.
Zito calling other GMs on the Panthers' landline...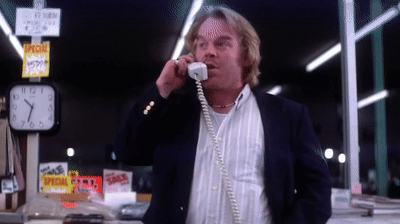 With Ekblad going on LTIR, Florida should have some money to play with, but this is a tough spot to be in. For the first time in a long time, the Panthers look to actually be getting out of the purgatory of good-but-never-taking-the-next-step that they have been in for years.
The current crew they have is getting the job done and are much tougher to play against (as we have been saying), but there is always room for improvement - especially when you're planning for the playoffs. The challenging thing for Florida will be to find the right pieces without disturbing the current mojo.
Being in the position the Panthers find themselves in, I feel comfortable with Zito making some moves rather than Tallon in his later years. Don't get me wrong, I loved Tallon's maverick spirit, and he brought in some great players during his run, but a lot of signings/trades felt very random and didn't really work towards a goal.
With Zito there's more of a vision. We were told the plan and we're seeing it executed. He has a good eye for bringing in pieces that make sense for the team (Verhaeghe, Wennberg, Gudas, Duclair, etc.).
While I think he can get away with a "smaller" signing at the TDL for some forward help, with Ekblad downed, it's a necessity to make a "splash" on a defenseman. I would guess it has to be a top pairing (or close to it) guy that can play with Weegar. Of course that means parting ways with current guys/prospects and/or picks and that's where the difficulty of not giving up too much while somehow maintaining that chemistry.
With twenty-something games left of this all-divisional game season and the injury bug biting, the post-season is not a guarantee. The Cats need to keep their pace up and work each night to lean on that tougher play that they have been exhibiting this year in order to stay in the win column.
Who are the sellers and what moves do you want to see the Cats make at the TDL?
______________________________
It's a good night to keep this thing rolling and get a W for #5. The Panthers need to take it to the
12-20-4 Red Wings. Get it done, fellas.
Go Panthers!